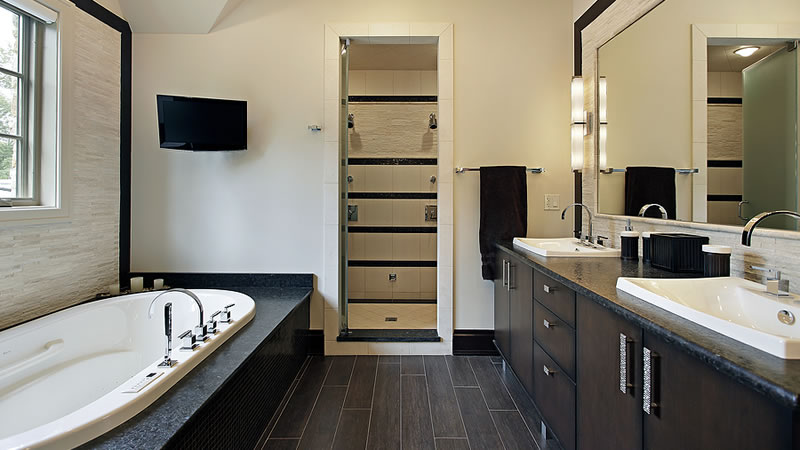 Bathroom Remodeling Ideas For Your Master Bathroom
Gone are the days when a great master bathroom consisted of just a plain showering space and a large bathtub.  In fact, if you consider your master bathroom somewhat old school, with that 70's green or yellow style, maybe it's time you thought about remodeling it?
Remodeling your master bathroom could be one of the best luxuries you will ever gift yourself. It will not only improve the comfort of your master bedroom as a whole, but also give you something to look forward to enjoying after a long or frustrating day at work.
Your current bathroom is likely riddled with a number of inconveniences that are driving you to want to remodel. This could include poor lighting or limited storage space?  Maybe the bathroom is just really old and the styling is very dated?  Maybe you have a single sink vanity and you're sick of fighting with your spouse for counter space when you're trying to get ready in the mornings.  These are shortcomings that a well planned master bathroom renovation can solve.
Imagine walking into a beautiful new bathroom, where everything is meticulously arranged in a well crafted luxurious space. Then, as soon as you settle in, you take the remote sitting right beside you and put on some music on using the built in blue tooth stereo. You then pour yourself a nice big glass of wine, adjust the lights to your liking, and slip into a nice warm jetted tub for a good long soak. This isn't a far fetched imagination. The truth is that you can have it all and the master bathroom should be the most luxurious room in your home.
Apart from your comfort, a magnificent master bathroom changes the perspective of home buyers as well.  This means that if you decide to sell your house some day, your beautiful bathroom will definitely leave a lasting impression on any interested buyer.
Master Bathroom Areas To Remodel
There are a host of areas to improve or update in your bathroom when considering a renovation. However, it all depends on what you as an individual prefer and what you have available to work with for a budget (yes we know the budget talk is such a downer!) but it's necessary.
Here Are A Few Ideas:
Limited storage space?  It's easy to make some modifications and expand the storage space.
Bathroom flooring also matters. Your old vinyl floor could be replaced with beautiful tile.
The lighting is also equally important.  Ultra-bright LED lighting is very popular for bathrooms.
Bathroom vanities are worth replacing.  Especially if you find yourself struggling for sink and counter space.
You Need The Help Of A Professional Contractor
Bathrooms are sophisticated. For this reason, it is highly recommended that you speak to a professional; someone like FRB Contracting LLC who knows the ins and out of different bathroom designs and layouts based on years of experience helping homeowners dramatically improve their master bathroom space.
An experienced bathroom designer can suggest design and renovation ideas you might not have ever even thought of. Additionally, a good bathroom designer is able to listen to you and bring out your ideas into a drawing or rendering. This gives you a very clear representation of what your master bathroom is supposed to look like after the renovation.  You can see some of the bathrooms we've remodeled right here.
For a complex master bathroom renovation project, it helps to know the contractor's experience as well as some of their projects. This is because expertise varies and you definitely want someone with proven capabilities.
The Best Ideas For Remodeling Your Master Bathroom
Although there are a myriad of bathroom remodeling ideas, but what really matters is what you as the owner, want for your bathroom. You can choose to personalize your master bathroom anyway you want to and the only limiting factor is your budget (yes, we said it again!).
Here Are Some More Ideas:
Expanding Your Bathroom Space
Do you feel as though your bathroom space is limiting? You can change that, but it will need sacrifice and creativity. First of all, it would help if there is an adjacent room with extra space that you can use. This aids with expansion during the remodeling process. Since you most likely need just a bit of additional space, you will not be converting the entire room into a master bathroom.
If you barely have any space, worry about it.  There are still other options available for maneuvering. In fact, renovations are sometimes all about making what you have a better. With that in mind, you can still have a small but exceedingly luxurious bathroom. You might, however, have to surrender your large bathtub for a slightly smaller one.
When remodeling your master bathroom, space is sometimes not a concern. More so, your current bathroom may be quite spacious that you wonder what to do with space.
How about a custom wooden cabinet? Storage space may be enough. But is it well defined? Luckily, with a custom made cabinet you will know exactly where to put what.
Your towels will have their own compartment and so are your supplies such as soaps, lotion, hair shampoo, combs and so on.
Vanity With Double Sinks
A master bathroom with a double sink vanity is an excellent choice especially if you and your spouse often find yourselves fighting over the space in the mornings.  Another brilliant aspect of this design is the expanded storage space. You will find that both of you are able to keep your bathroom accessories apart in separate cabinets or drawers.  The counter top on double vanity has ample space; this means that you can go about your morning routine without getting in the way of each other.
Jetted Tubs, Jacuzzi Tubs, Or Walk-In Tubs
Would you like to get rid of your old bathtub? Well, if that's the case, then you should consider installing a jacuzzi tub. This is a specially designed jetted tub that delivers a tremendously relaxing bath experience.  Maybe you'd like to remodel your bathroom for better mobility and safety?  In that case, maybe it's time to consider a walk-in tub.  This is a very popular upgrade for seniors who wish to "age-in-place" in their home and it's an upgrade that grown children are often trying to convince their parents to install in their home for safety and comfort.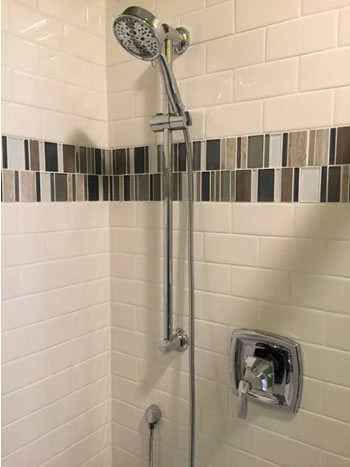 Beautiful Stone or Tile Showers
More and more people are ditching their bathtubs and converting them into beautiful, luxurious, walk-in showers.  Showers are more convenient for busy people who don't have the time to soak in a bath for 1/2 an hour or more.  Tile or stone showers are very popular for their luxurious look and they can be accented with unique tile designs, shower niches to hold your shampoo and soap, benches to sit and relax on, digital shower controllers to ensure the perfect temperature, and even a frameless glass enclosure so you can show off your space.
Don't Forget The Bathroom Flooring
A floor that complements your bathroom décor can really help with the look of your new bathroom space. Tile is generally the most popular flooring material for a bathroom but there are other choices out there that are just as great.  For example, if you have a rustic wooden cabinet, then you might want to consider a hardwood floor.  LVT (luxury vinyl tile) is another popular option and you can buy it to look just like many luxury flooring materials including beautiful tile or various types of hardwood.  LVT flooring is impervious to water which it makes it a perfect choice for any bathroom.
Bright LED Bathroom Lighting
You can look at bathroom lighting in two ways. One is the natural lighting that illuminates your bathroom through the use of windows or skylights.  If your bathroom is poorly lit then you'll never have a great experience in your bathroom.  Natural lighting can be enhanced by adding an extra window, making a window larger, or even adding a skylight (which is very popular).
The other type of lighting to consider is LED lighting.  There are a lot of options when it comes to LED lighting.
You want to have the right kind of lighting for different functionalities. A dim light in your bathtub area might provide a nice relaxing ambiance.  On the other hand, you probably want to have ultra bright LED lighting on the section that houses vanity, the sink as well as the mirror.
Let's face it. We spend a considerable amount of time in the bathroom taking care of ourselves. This is why remodeling your master bedroom is a worthy investment. Think of the number of times you go home tired looking forward to a warm bath or a warm shower.  If your master bathroom is dated, old, and no longer enjoyable to use, it's time to consider remodeling it.
FRB Contracting Remodels Master Bathrooms In Kansas City
The team at FRB Contracting LLC specializes in designing and building beautiful custom bathrooms.  Whether it's your master bathroom or a small hallway bathroom our team can transform your bathroom into a luxurious, new, spa-like, space for you to enjoy.  From design, to flooring, to lighting, to your vanity, custom showers, walk-in tubs, custom storage, and more, we can help.
If you'd like to schedule your bathroom remodeling estimate give us a call (816) 520-5682 or fill out our online form and we'll get right back to you.