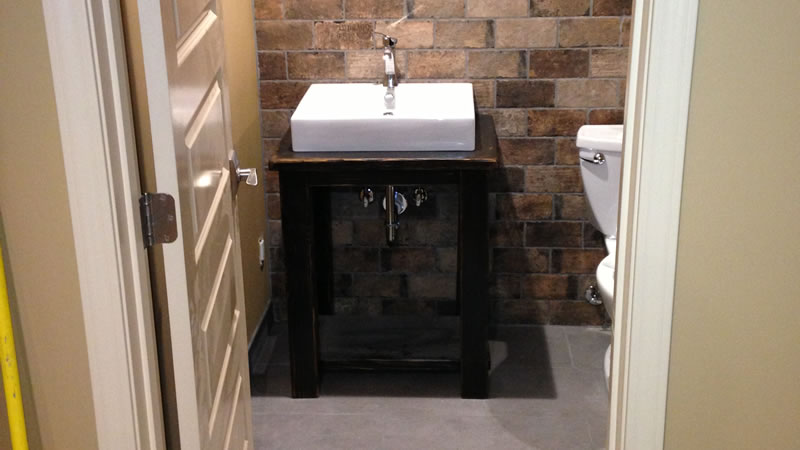 Remodeling Your Small Bathroom
A small bathroom used to mean a small selection of design options. Now, however, the world of bathroom design has set out to prove just how luxurious functionality can be and you won't have to wait weeks or months for a traditional remodel.  FRB Contracting LLC specializes in the design and installation of customized bathroom remodels big or small. Here are the top tips we've learned through years of experience and expertise.
Be realistic in your planning.
The type of bathroom you are renovating will greatly influence your construction planning. Here are the main kinds of bathrooms found in most homes:
1. Also known as a half-bath, Powder rooms are typically comprised of a sink and toilet. In larger homes, where space allows, powder rooms act as a secondary bathroom so that guests don't have to use the homeowner's full bathroom. Remodeling the powder room removes the stress of going without a bathroom while the work is being done since there is usually at least one other bathroom to use. A powder room may also have more transformational potential than a traditional bathroom. You may choose to splurge on upgrading the existing layout and fixtures since there are fewer of them, or you may expand the footprint by adding square footage and a bath or shower.
2. A full bathroom offers all amenities, including a toilet, sink, and bathtub or shower and is typically used every day. If your home has more than one full bathroom, you might find they end up being designated to specific users, for example, a kid's bath or master bath. There are different considerations to be made when remodeling a full bathroom. The amount of use the bathroom gets will influence the types of fixtures and materials you choose. Functionality, practicality, and durability is usually the focus of these remodels.After all, no one wants an expensive, porcelain tile getting chipped in the first week!
3. If you are fortunate enough to have an "extra" full bathroom that is not used on a regular basis, a remodel could go one of two ways. Deemed a guest bathroom in design speak, this secondary bathroom could be designed with style in mind first and foremost; or, because the bathroom isn't seen as often, you may want a more economic approach in order to reduce spending.
Another important consideration in remodeling a small bathroom is to assess the needs of those who will be using the bathroom on a regular basis.
If your master bathroom is small, it's a good idea to invest in quality storage pieces wherever you can. Keeping the counter clutter free and the drawers more organized will not only make the room feel bigger, it will also make your mornings less hectic. Indulging in beautiful modern finishings and fixtures is something homeowners rarely regret, especially if doing so adds a sense of airiness and luxury to the space. After all, this is a room that will likely be used twice a day, at a minimum.
Hallway bathrooms are designed to be shared. Since they are located between the bedrooms, they often need to function for the entire household or everyone outside of the master bedroom, at the very least. Storage is key in hallway bathrooms in order for everyone to use the space efficiently and harmoniously.
If you are remodeling a kid's bathroom, it will most likely go through a few years of tough love. Durable fixtures and waterproof floors are important features to consider to avoid having to redo them if too much splashing happens in the tub. A bathtub, as opposed to a shower, is oftentimes at the top of the list for parents with small children so you many want to avoid eliminating the option completely for resale. A good solution in this circumstance is a shower/tub combo. That way the room can grow with your kids.
A bathroom that is mainly used by overnight guests will not require the same level of storage and durability as a master bathroom or a kid's bathroom since it won't be used nearly as often. A classic design style will stand the test of time and you'll be less likely to tire of the look before it needs improvements again. Likewise, day guests won't require the same amount of storage as your other bathrooms, so you can keep it simple with a toilet and sink.
Even in the best-case scenarios, bathroom layouts can be difficult to nail down, but they can be particularly challenging if your bathroom is small. If you've already done the work of figuring out the type of bathroom you have and who is going to be using the bathroom, it's time to learn some of the small bathroom ideas that might work in your space.
Wall Mounted Toilets
If you have the wall capacity to install a built-in toilet tank, you can free up floor space, increase legroom, and give the illusion of a bigger space by mounting the toilet on the wall.
Utilize a tight corner
It is possible for a smaller bathroom to have a separate tub and shower. A small walk-in shower in the corner can make room for a statement making, small, stand-alone tub. Good design doesn't have to come in big packages.
Bathtub to shower conversion
Showers take up half the amount of floor space as bathtubs. Replacing a full-size bathtub with a smaller shower will open up your bathroom considerably.
Glass shower doors
Glass shower doors remove the visual barrier of walls and shower curtains making your bathroom feel much bigger. Eliminate any visual stops by matching the shower wall pattern/color onto the surrounding walls to make it feel like one big space. A glass enclosure can also high-light show stopping design elements, such as intricate tile inlays or a high-tech rain showerhead.
Curbless showers and continual flooring
Eliminating the curb around your shower is a favorite trick of top designers. A curbless shower means the flooring will continue right into the shower rather than having a shower base or curb stop the eye from moving seamlessly around the room. There are many beautiful flooring options that work well for a curbless shower.
Smaller vanities and wall-mounted sinks
Installing a small, yet functional, vanity is both practical and savvy. You don't always need the biggest option available. There are many designs out there that will meet your storage needs, save you space, and look beautiful. Like wall-mounted toilets, wall-mounted sinks will open up your bathroom and save floor space. Just make sure to have it properly installed so it can support the inevitable counter leaning that comes with flossing teeth.
Add vertical storage
Just because you don't have the floor space to house extra storage cabinets doesn't mean you have to do without. Look for extra wall space to add shelving solutions behind the toilet, at the end of your bathtub, or around your vanity mirror. You could also add recessed medicine cabinets as vanity mirrors for multi-functional pieces. Built-in storage is a great way to customize your bathroom to fit your needs, while catering to the exact style you're trying to achieve.
Lighting
A small bathroom has different challenges than larger bathrooms when comes to lighting. Finding the right fixtures without overwhelming the space can be a daunting task. A small bathroom means fewer choices for the placement and size of lighting fixtures, but that doesn't mean you have to stick with one single ceiling fixture for the entire bathroom. With a little extra planning, adequate lighting can take your small bathroom from small and dark to warm and inviting. Sconces or recessed lights on either side of your vanity mirror will create cross illumination for applying makeup or shaving. The shower is a great place to add secondary task lighting and recessed fixtures work well above the toilet. If you do have enough wall space to hang a piece of artwork, add a layer of accent lighting by highlighting the piece with a recessed spotlight.
Keep it light
Walls painted a light color, like white, create the illusion of space in a small bathroom. Add warmth and depth with muted patterns like marble tiles or inject contrasting color combinations with tiled shower niches and darker floors.
FRB Contracting LLC knows that the key to a successful bathroom remodel is customization, especially when it comes to small bathrooms. Whether your bathroom needs a cosmetic boost with a simple new shower surround or a complete tub to shower conversion, we have everything you need to make a big impact on your small space.  We can help you choose everything from style and color to suitable accessories to make sure you get exactly what you want.