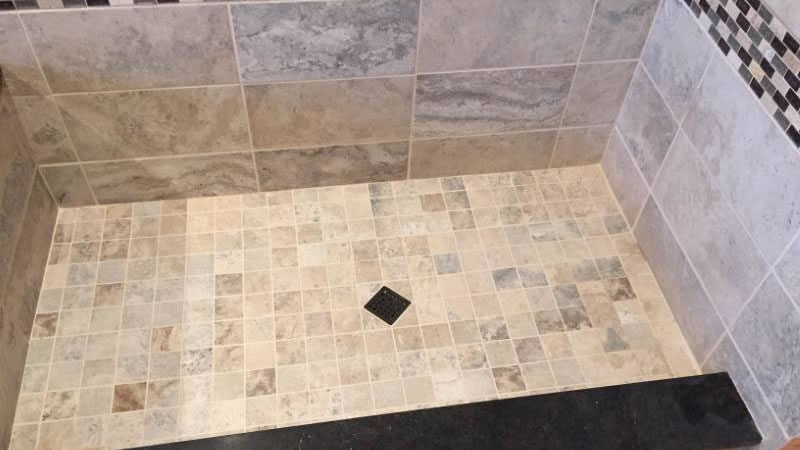 Converting Your Bathtub Into A New Shower
Waiting to renovate a bathroom can turn into an excruciating test of patience. Once you decide that things need to change, it becomes really difficult to put those thoughts out of your mind, especially since the bathroom is a space we use daily.
Whether you prefer showers to baths, have difficulties stepping into the tub, or have a dingy and outdated looking bathroom, replacing an old tub in favor of a walk-in shower can increase your comfort, enjoyment, and ease of access. It's not just personal fulfillment where it can really pay off, either.
Walk-in showers and showers without tubs are growing in popularity and have the potential to make your home more desirable on the market. Be careful though. Many real estate agents advise against removing all the bathtubs in your home since you run the risk of limiting your potential marketability.
The number one question people have when they are contemplating any renovation is how much will it cost? Unfortunately, many factors will influence the answer, so you'll want to consider them each carefully.
The first thing you need to determine is how much, if any, of the work you will do yourself. That can depend on both your skill set and your budget. Paying for someone else to do the work can be expensive, but making a mistake can be costly, stressful, and time-consuming.
The quality of materials you want to use will greatly influence the cost of the job. Big box stores supply standard-sized shower bases that are easily installed by many do-it-yourself homeowners. Custom sizing moves the price point up the scale. If you decide to go with a tile surround, there is a big difference in the cost of basic white ceramic tiles and specialty tiles flown in from Italy. The same is true with the fixtures you choose. A luxury shower experience enhanced with special features such as showerheads that mimic rainfall can run a few hundred, if not thousands, more.
And that's just the fun stuff. You should build a contingency fund your budget to allow for any needed repairs or plumbing updates that you may not be aware of. You may need to rectify issues such as dry rot or water leaks around the tub space and older homes are often tasked with updating their outdated pipes.
It's fair to say that many of the pictures we see of beautiful bathrooms don't reflect the reality that most of us have small bath areas. The dream of having giant shower spaces in addition to a freestanding bathtub is not doable. Converting a bathtub into a shower space is the best way to get that big beautiful walk-in shower in a smaller bathroom.
But what if you decide that you just don't have enough space or you'd like something a little larger? Or, what if you'd like a smaller shower so that you can free up space for more storage or a double vanity. Both of those scenarios might require relocating the shower. How difficult is it to relocate the shower, you ask?
In most circumstances, this would call for a professional or advanced DIYer. If your room is on an upper level, it can be more challenging to move the pipes; and, if your ground floor bathroom is on a slab, you may have to cut into the concrete. Accessing the downpipe, which carries the waste water to the sewer, may involve removing a large portion of the wall. And moving the toilet could require a rework of its connection to both the vent stack and the sewer pipe.
Working with the space you have and installing your shower in the bathtub's footprint can save you a lot of time, effort, and money.
If you decide to go that route and retrofit your existing tub into a shower, there are few steps you should take before starting your remodel.
You may have your heart set on a lovely walk-in shower from the picture of a magazine only to find that the shower is far too big for your space. You need to ensure that you actually have the space for the shower you want. Most standard, wall-to-wall bathtubs are roughly 60 inches long and 30-32 inches wide and you'll most likely want to add a few inches, if possible.
First, aim for at least 32-34 inches from the bathroom door to the finished shower wall. Next, ensure that your expansion will leave enough room around the toilet if it's located right beside the shower. You'll also want to consider the materials you'll be using. Use a physical folder or an online folder to store installation information from manufacturers you're considering, making sure to note any measurement requirements that may influence the measurements.
Once you have figured out the size limitations for your shower, you'll want to start researching the best type of shower to install in your bathroom.
All-in-one shower stalls make the job much easier. Many home improvement stores carry models that can be added to an existing tub-sized space and provide options such as built-in ledges and seating areas. They typically have a curb on the bottom base to contain water and the opportunity to choose which type of door you use.
If you prefer the esthetic of a tiled shower surround, there are two options. The first is to create a tiled shower in the existing wall space using a curb or ledge to hold the door and keep the water inside the shower. You'll want to ensure the curb is short enough to step over and tall enough to contain the water. You should also make sure that the curb has a smooth edge to avoid any injury.
The second option is to install a curbless shower. Accessing the shower is much easier when there is no lip to step over. But that isn't the only reason people gravitate to the style. Curbless showers create an open look that feels modern. It can also save space for those looking to make the most of a small bathroom. The most important thing to consider with a curbless shower is the difficulty in containing water. Ensuring an adequate slope for proper drainage is crucial. You can also help reduce any overflow potential by installing a shower screen (a kind of pivoting glass door) and a directional showerhead that keeps the water flow directed away from the rest of the bathroom.
Knowing the disadvantages and benefits of getting rid of an unused tub in favor of a shower will make sure that your bathroom meets your wants and needs without any unwanted or unplanned impact on resale or budget.
FRB Contracting LLC specializes in converting old bathtubs into beautiful new showers including walk-in and barrier free showers.  We proudly serve the communities throughout Kansas City.  If you'd like to convert your bathtub into a new shower give us a call (816) 520-5682 or fill out our online form and we'll get back to you right away to schedule your bathroom consultation.