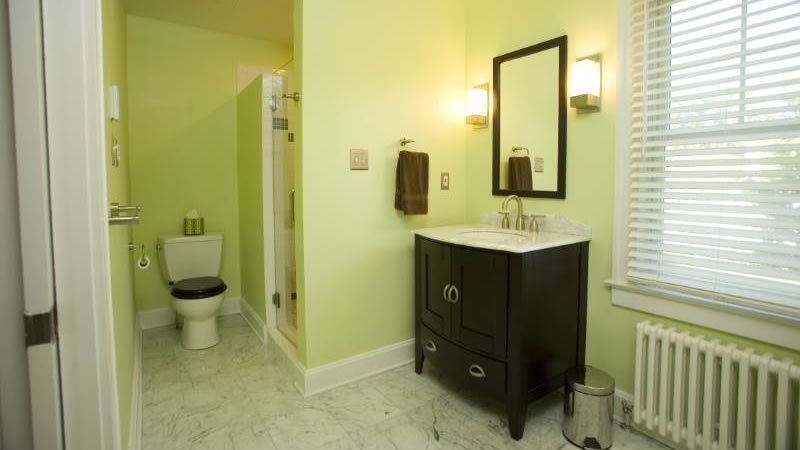 Questions To Ask Before Remodeling Your Bathroom.
Bathroom renovations can become overwhelming and confusing. It's not uncommon for many people to put the renovation off entirely because they don't know where to start. Once you sit down to really think about what you want and do some research, the planning stage becomes much more clear.
Here are nine questions to get you started.
1. Let's start with the basics. Why do you want to remodel your bathroom? Be specific. What exactly is your motivation? Is it outdated? Was there damage due to a leak? Set aside aesthetics and ask yourself what works in the space and what doesn't? Who will use the space? A master bathroom for two can function very differently than a family bathroom, kids' bathroom, or guest bathroom. How will you use the space? Is it primarily for functionality with a focus on efficiency? Do you plan to spend time relaxing and indulging in long baths?
2. Now that you've identified what things need to change, you can start to dream. Ask yourself what your dream bathroom look like? This is the fun part. Dream big! Gather as much inspiration as you can, without overthinking it. If something grabs your eye, save it. As soon as you start to over analyze, you'll sabotage your efforts. The goal here is to find the consistency in what you have collected. Are you drawn to a fresh, all-white look? Or do warmer tones make you happy? Is your style more traditional? Modern? Do you lean towards dark floors or light?
3. Now is when you call upon that overthinking, grounded in reality, number crunching, member of your design team. Whether it's you or someone else, you need to ask yourself is it worth the investment? Look at comparable listings in your neighborhood to get an idea of what things are selling for? Figure out the average price per square foot in your area. Do the math and figure out what financial commitments you've already put into your house. What number makes sense to put into your home given that information? Does it make sense to gut the entire room and invest $20,000? Is it smarter to put the focus on more cosmetic upgrades? Will you see the money in your return? Imagine a prospective buyer viewing your home. Does marble in the bathroom match the expectations of the neighborhood? Then, ask yourself if you have the budget to meet those expectations? If not, maybe wait a while or do a mini-makeover to tide you over. If yes, there are still some things to think about.
4. A good follow up to the previous question is how long you plan to stay in your current house? Granted, no one can predict the future, but it's a good idea to look at your five-year plan. Is it likely that you'll still be in this home? Do you plan on renting out your home? The financial considerations are much more consequential if you're not in your forever home. Fixing things up for resale is a different game plan than a remodel you plan to enjoy for years to come. Get excited about your home and potential renovations, but be smart about the investment.
5. Set a realistic budget. Where can you get the most bang for your buck? If you don't need to gut your bathroom and change every last thing, evaluate where you can put your focus to make the biggest impact. Changing countertops, lighting, or flooring can truly alter the look of a bathroom. And if you do decide that you want to do an entire bathroom overhaul, do your homework. Look at how much the items on your wish list start at. Will your focus be aimed more at luxury or economical?
6. What can you do yourself? Many people are quick to respond, "nothing!", but don't underestimate yourself. If you are handy enough to knock off even a few items off the contractor's bid, you can save hundreds of dollars. That money can then be put toward the cost of higher-end finishings.
7. What materials work best for your bathroom? Put some thought into this. Now is when all those inspiration pictures start to come to life. Try to recreate the looks you like within your budget. Find ways to incorporate the elements that drew you to the picture into your space somehow. If that marble shower is out of your budget, maybe you can use it as backsplash instead. It's also a great time to decide if something is a non-negotiable. If you can't imagine any other tile in your shower, then see where else you can compromise in order to manipulate the budget in your favor.
8. You will be investing a lot of time and money in this renovation, so it's important to think about how this renovation will make you feel? You don't want to feel regret for overspending every time you enjoy a long bath in your jet tub. Likewise, you don't want to be reminded that you scrimped on shower tile when showering every morning.
9. Where do you go from here? Now you'll want to set a timeline for the project. If you are doing the work yourself, then be realistic about how much time you have to devote to the tasks. Set up a calendar just like a contractor does. If you are using a contractor, be prepared to have decisions made. They don't have the time to wait for you to decide on lighting fixtures the day the electrician is scheduled to come in. Ask questions. Find out what to expect each day and what they need from you. Find a contractor that you like and, more importantly, does great work. Ask for references. Go look at their finished projects. Get more than one bid. This is true whether you are using a contractor for the entire project or just specific jobs.
Remember to take your time when answering these questions. Honesty is the key to being successful in making all nine answers help you to design a bathroom that works for you, your budget, and your expectations. Don't sprint to the finish line and risk tripping over the hurdles of inexperience and poor planning. Hurrying will inevitably lead to a renovation nightmare.
FRB Contracting LLC (816) 520-5682 specializes in bathroom remodeling and renovation projects throughout Kansas City.  If you have a bathroom you'd like to fix up or renovate we'd be happy to come and view your bathroom and present you with ideas and solutions to transform your bathroom into a luxurious new space for you and your family to enjoy.