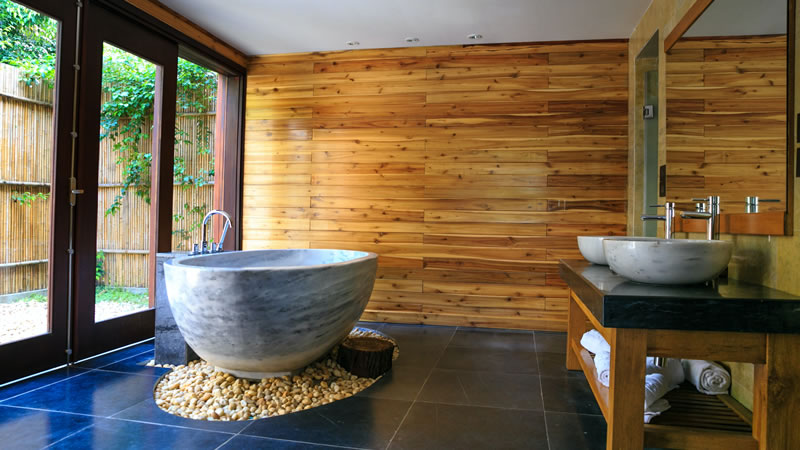 Bathtub Replacement
Do you have an old, dingy, stained, or chipped, bathtub you'd like to replace?  A grungy old bathtub can really be a downer on your bathing experience, it's embarrassing if you have guests over and it decreases the value of your home if you were looking to sell.  Thankfully, replacing a bathtub is an affordable bathroom remodeling project that can be completed in as little as one day.
FRB Contracting LLC is a locally owned, licensed, and insured remodeling contractor serving the Kansas City area for over 25 years.  We specialize in replacing old, grungy bathtubs with new and modern acrylic bathtubs.  Whether you'd just like a new soaker tub installed or you'd like a new tile tub surround our team will be able to help you with your bathtub remodel.
Bathtub Replacement Or Bathtub Liner – What's The Difference?
If you're looking at replacing an existing bathtub then you've probably already heard of bathtub liners as a solution to an ugly bathtub.  We don't offer bath liners as a cover-up solution as these are a substandard short term option to solving your long term satisfaction and happiness.  We specialize in replacing your entire tub.
When To Replace Your Bathtub?
If your bathroom is suffering from any water damage due to a leaky tub surround, a leaking or cracked tub, or the tub is just old and dated then it's a good time to consider replacing it.  If you want to change more than just your bathtub such as adding a new tile surround or new bathroom flooring or you want a larger tub then replacement is probably the better option.
Book Your Bathtub Remodeling Consultation
When you book your Free bathroom design consultation one of our bathroom remodeling experts will be able to help you decide which option is going to be the best for your specific bathroom and we can help guide you with regards to color and style choices too.
Get started now by calling (816) 520-5682 or fill out our online contact form and we will get right back to you.