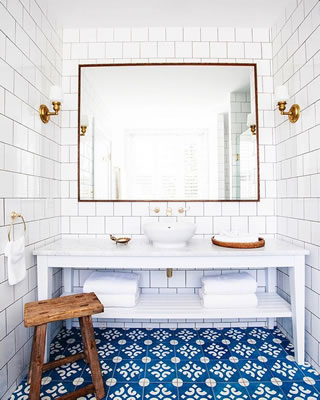 Custom Tile Flooring Installations
We specialize in installing tile floors!
Looking to replace some laminate, carpet or other type of flooring with a more luxurious and durable tile?  Tile flooring installations are very popular home upgrades because they look incredible when installed and finished properly, they are easy to clean and maintain, and a new tile floor is durable enough to last the life of your home!
FRB Contracting LLC is a locally owned, licensed, and insured remodeling contractor that has been serving the Kansas City, MO area for over 25 years.  We bring a level of expertise that is often difficult to find in our market.  We specialize in the installation of new tile flooring for entryways, bathrooms, kitchens and anywhere else you'd like to have decorative tile installed in your home or your business.  From a beautiful new mosaic tiled entryway to a new heated tile floor in your bathroom or kitchen, we'll be able to bring fresh ideas and inspiration to your tile flooring project.
Why Choose FRB Contracting LLC For Your Tile Flooring Project?
When you choose to work with the small team at FRB Contracting LLC you're partnering with a team that has over 25 years experience in the tile flooring industry.  You can count on us for knowledgeable answers to your questions, trendy design ideas, solutions to complex flooring problems, and only the highest quality tile installations.
If you'd like to receive an estimate for your tile flooring installation in Kansas City, MO please give us a call (816) 520-5682 or fill out our contact form and someone will be getting back to you shortly.