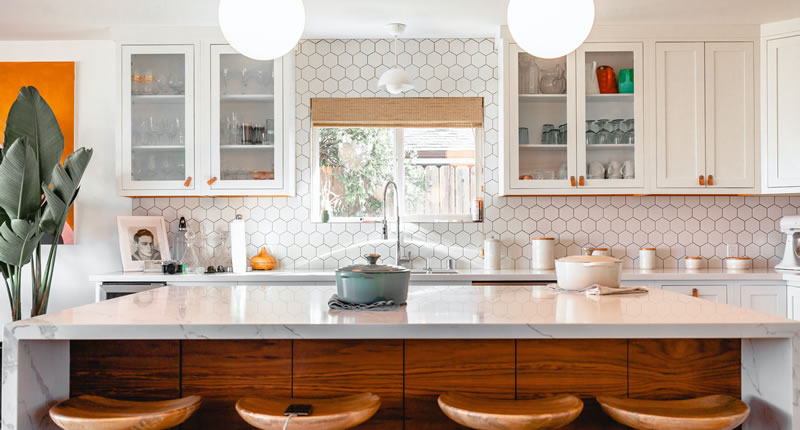 Tile Backsplash Installations
If you're looking for an elegant, functional way to improve the look of your kitchen then look no further than a new tile back splash to protect and enhance the appearance of your kitchen walls. With so many tile and material choices on the market, backsplashes are no longer just to protect your wall from grease spatters and cooking mess but they have now become an integral design aspect of any modern kitchen or bathroom.  If you're looking for a home improvement project that makes a statement, a beautiful tile backsplash is pretty tough to beat.
FRB Contracting LLC is a locally owned, licensed, and insured tile installation contractor.  FRB has been serving the Kansas City, MO area for over 25 years and we bring a level of expertise with tile that is often difficult to find in this market.  We specialize in the installation of tile backsplashes.  Whether you have an old or damaged backsplash you'd like to replace or you want a new installation our team can help.
With one of our FREE in-home consultations we can view your kitchen backsplash project, take measurements, show you material samples, and color choices, and provide you with an estimate to install a beautiful tile backsplash into your home.
What Type Of Tile Is Best For A Backsplash?
Porcelain & Ceramic Tile
Porcelain and ceramic tile are both great choices for the kitchen. They are durable and can withstand the abuse they may receive in such a busy area with hard pots and pans and hot items. Their glazed finish makes them impervious to just about everything. Because they are available in a wide variety of colors and styles, you can usually find what you're looking for. Porcelain and ceramic tile manufacturers even make tile that looks like natural stone tile but is much more durable.
Natural Stone Tile
Natural stone tile includes granite, marble, travertine, slate, limestone and more. While natural stone provides a beautiful look, it is less durable than some other choices. It requires more maintenance and can chip and scratch and stain more easily than other types of tile. It is probably better suited for rooms with less traffic and use. Luckily, manufacturers have created tile from other substances that mimic the look of natural stone but also provide the durability.
Glass Tile
Glass tile lends a contemporary, look and feel. We have a really great selection of all kinds of glass, glass blends, and glass/stone blends. Glass and glass blends can create a stunning look in your kitchen. If you have a fireplace in your kitchen, they are also great for accenting focal points.
Metal Tile
Metal tile gives a contemporary update to any kitchen. Choose from chrome, brushed aluminum, copper, silver, bronze, and more. These tiles come in a variety sizes as well as finishes including raw, low gloss, shiny, brushed, stamped patterns and more. You can create an entire backsplash or sprinkle in a few smaller tiles like the 2" square tiles as unique accent pieces.
Choose FRB Contracting, LLC For Your Tile Backsplash Project
When you choose to work with the FRB Contracting team for your tile backsplash project you are partnering with a small team of craftsman with many years of experience in the tiling and home remodeling industry.
We take the time to explain your project to you and what you can expect.  We help you make the right choices when it comes to tile, we provide a meticulous installation that will look great for a lifetime and we clean up after ourselves so good you'll never know we were there aside from your beautiful new tile floors.
Your new tile backsplash installation will be backed by our warranty and we'll also include a small box or two of replacement tiles just in case you ever need a repair a few years down the road, so you won't have to worry about finding a match.
If you'd like to receive an estimate for your tile backsplash installation project in Kansas City MO please give us a call (816) 520-5682 or fill out our contact form and someone will be getting back to you shortly.